Emergency Dentist
at Dentalcare Amersham
What is a dental emergency at Amersham?
As many as 1 in 4 people will experience some form of dental emergency in their lifetime. This could include anything ranging from a chipped tooth to painful abscess or a knocked-out tooth.   
We know that dental emergencies can be frightening and that is why we will do our best to see you as soon as possible. 
At Dentalcare Amersham, dental emergencies are classed as any kind of dental pain, bleeding or trauma to your teeth, mouth or gums. Common dental emergencies include: 
A 

chipped tooth

 

A 

knocked-out tooth

 

Persistent toothache

 

Lost crowns or fillings

 

Abscess

 

Root fractures

 
Contact our friendly dental receptionists who can give you advice over the phone to deal with your dental emergency and book you in to see the emergency dentist as soon as possible. 
Getting an emergency dental appointment in Amersham
We aim to see patients who have a dental emergency as soon as possible and within 24 hours of calling. If you have a dental emergency, please contact us as soon as you can so that we can book you in quickly with our emergency dentist. 
If you have a dental emergency outside of our usual opening hours, please phone 111 who are available until 9.30pm every day, and from 8am until 9.30pm on weekends and bank holidays.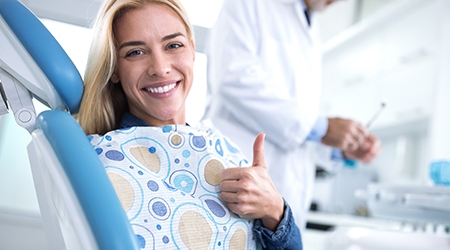 Book your appointment for Emergency Dentist
Advice for some common dental emergencies in Amersham
Here is some advice for some of the more common dental emergencies. 
Toothache or 
any kind of 
dental 
pain
A constant nagging toothache can be painful. Take paracetamol for the pain. Ibuprofen can help if you have any swelling. Avoid drinking anything that is too hot or cold. Rinsing your mouth in salty water can also help ease the pain. 
Knocked-out tooth
If you have knocked-out a tooth from a fall, make sure that you visit your doctor or A&E if you are suffering from any other injuries. Saving your tooth is time critical so you must call us as soon as you possibly can if the emergency dentist is able to bed the tooth back into your gum. Always hold the tooth by the crown, never the root and don't allow it to dry out. Either keep your tooth in cold milk or in your mouth whilst you wait to see the emergency dentist. 
Lost Crown
If you still have the crown, keep hold of it and bring it with you to the emergency dentist. Phone us as soon as possible to book an emergency dentist appointment. 
Frequently asked questions about dental emergencies 
What can I do for a dental abscess?
You need to call us for a dental emergency appointment so that we can check that the infection has not spread to any other parts of your body. You can take painkillers to deal with pain and rinse your mouth in salty water can help too. 
What should I do if I have a dental emergency at the weekend?
Firstly, call us to see if we are open. If you have a dental emergency late at the weekend or on a Sunday, you can call 111 who will tell you what to do next. 
The wire on my fixed brace has come loose. Is this a dental emergency?
Yes, call us as soon as you can, and we will get a dentist to see you as soon as possible. Whilst you are waiting cover the loose wire with cotton wool. Never attempt to cut the wire yourself. 
Dental fees
At Dentalcare Amersham, we treat every patient as an individuals, therefore each treatment plan is completely bespoke. 
Finance
We offer finance options because we believe everyone should be able to benefit from high-quality dental care.
Before & after
We are often told by our patients that the dental treatments we have provided has dramatically improved their quality of life.