Your local NHS dentist in Amersham
At Dentalcare Amersham, we believe in the NHS and we believe that everyone should have access to dental care that they need. For this reason, we continue to accept new NHS dental patients. 
Dental treatment on the NHS covers anything that is deemed necessary to keep your teeth, gums and mouth healthy. For example, treatment such as an amalgam silver fillings will be available under the NHS, but cosmetic dental treatment such as teeth whitening, white fillings or dental veneers will only be available as a private form of treatment because these treatments are not seen as being essential to your health. We offer finance plans and 0% finance to help manage the cost with these services. 
Dentistry is the only part of the NHS where you are expected to contribute towards the cost, but this is kept at a low rate and in line with the government's recommendations. There are some people who are exempt from paying anything and this together with the banding for NHS dental costs is explained in more detail below.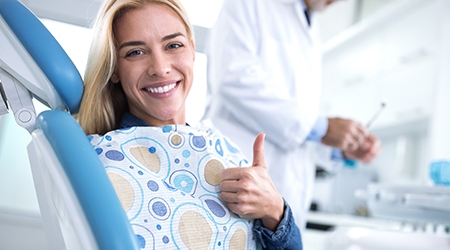 Book your appointment for NHS Dentistry
The cost for NHS dental treatment in Amersham
Since April 2018, there have been 3 bands of fees for all NHS dental treatments.  
Examination

Band 1

Covers an examination, diagnosis and advice. If necessary, it also includes X-rays, a scale and polish and planning for further treatment. This cost also covers urgent or emergency treatment.

£23.80

Band 2

Covers all treatment covered by Band 1, plus additional treatment, such as fillings, root canal treatment and removing teeth (extractions).

£65.20

Band 3

Covers all treatment covered by Bands 1 and 2, plus more complex procedures, such as crowns, dentures and bridges

£282.80
Patients entitled to free NHS dental treatment at Dentalcare Amersham
You do not have to pay for NHS dental treatment if you're:
Under 18 or under 19 and in full-time education
Pregnant or have had a baby in the past 12 months
Being treated in an NHS hospital and your treatment is carried out by the hospital dentist (you may still have to pay for dentures and bridges)
Receiving low income benefits or you're under 20 and a dependent of someone who is receiving low income benefits
You are entitled to free NHS dental treatment if you or your spouse receive:
Income support
Income related employment and support allowance
Income-based jobseeker's allowance
Pension credit guarantee credit
Universal credit and meet the criteria
You can also receive free NHS dental treatment if:
You are named on a valid NHS tax credit exemption certificate
You are named on a valid HC2 certificate which is available for people on a low income
Please note, due to the high number of people wishing to receive NHS dental treatment and the very long waiting lists, your dental practice has no choice but to remove patients who have not attended for two years or more from the NHS list.
Dental fees
At Dentalcare Amersham, we treat every patient as an individuals, therefore each treatment plan is completely bespoke. 
Finance
We offer finance options because we believe everyone should be able to benefit from high-quality dental care.
Before & after
We are often told by our patients that the dental treatments we have provided has dramatically improved their quality of life.